Hammerhead Performance Exhaust kit 250
From Wikibuggy
Jump to navigation
Jump to search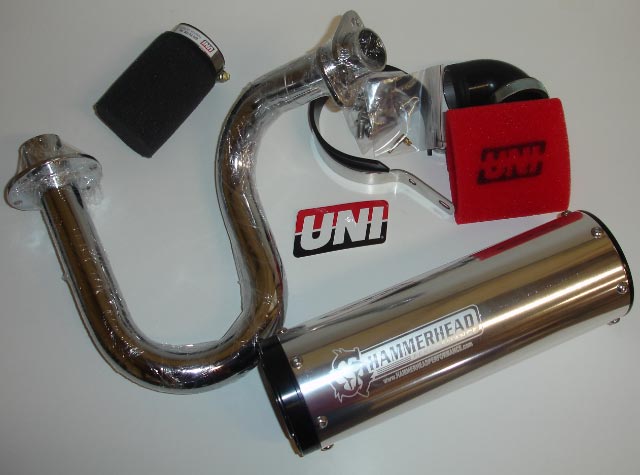 Description [1]
The Hammerhead Performance exhaust kit comes complete with head pipe, aluminum with a laser-etched logo, an upgraded UNI air filter, both pilot and main jet for the carburetor, anodized billet end caps on the muffler in 4 color. This exhaust kit sound great and guarantee you an increase in power and performance. This kit is made to fit any Hammerhead 250 SS Cf Moto engine. This exhaust kit can also fit other Go Kart / Buggy on the market, some modification may be necessary to adapt your Go Kart / Buggy. Check the list under description.
- Billet and anodized end caps
- Spark arrestor
- Upgraded UNI air filter
- Hammerhead Performance logo on the muffler
- Pilot and main jet
- Guaranteed to increase speed, power and performance.
Specification
Package Include [1]
- Head Pire
- Muffler
- Hardware
- Uni air Filter
- Carburator Jet ( Main / Pilot )
Cross Reference Machine [2]
Will fit: - Hammerhead 250 SS from 2006 - …
- Joyner Sand Viper 2006
- Roketa GK-06
Will fit with some modification: - Hammerhead CN250 2005
- Blade XTX 2007 - 2008
- Joyner 250 cc 2007 - 2008
- Sunl 250-2a 2007 - 2008
How to install
Images
Videos
Reference